October 2 - 4 | 2019
School Program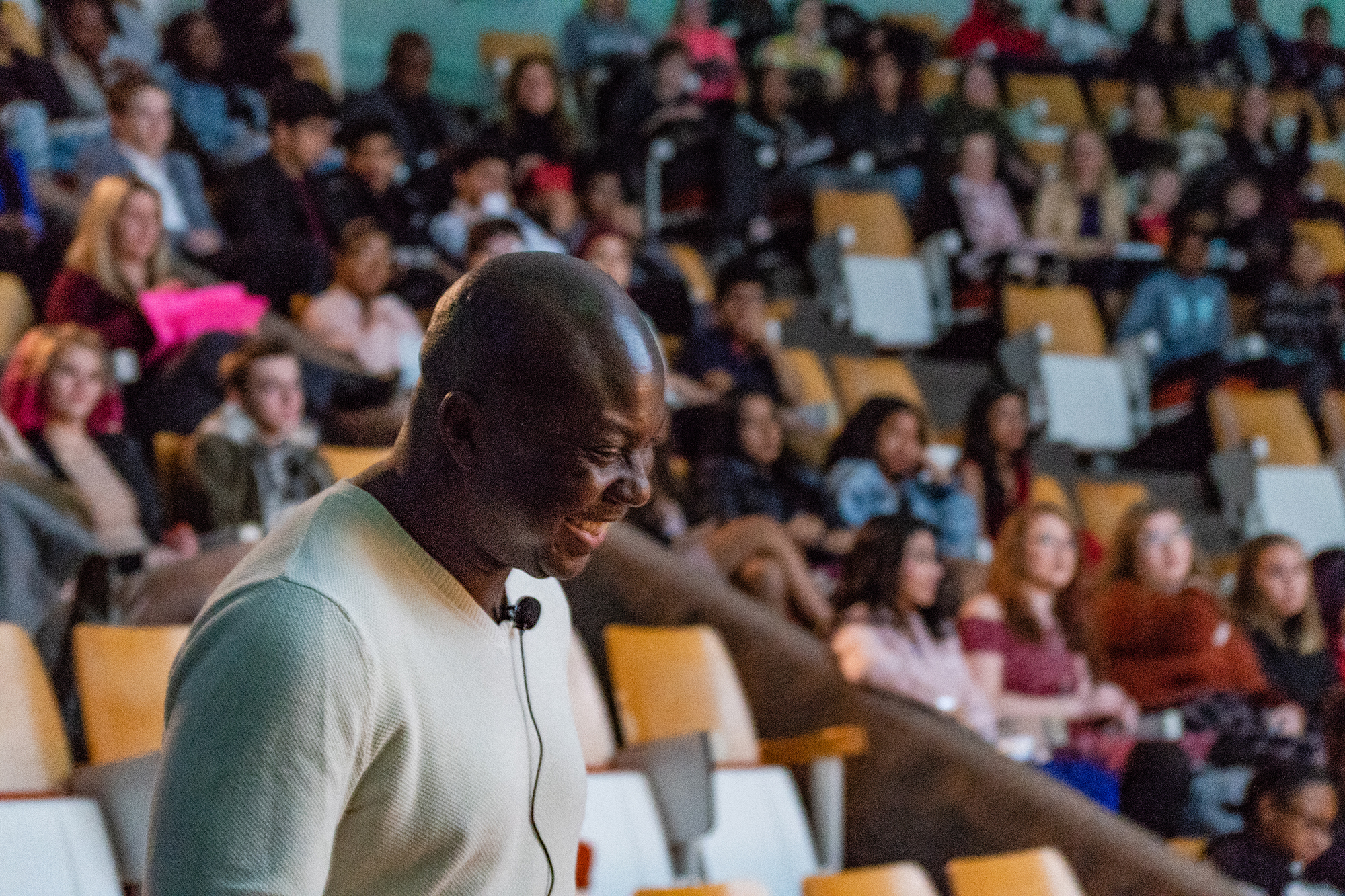 A cinematic experience for students
DRIFF partners with G.L. Roberts CVI & invites other schools to join
All films are selected for a high school audience with a focus on cultural, relevant and educational content


2019 Program: Other schools in the Region are invited to attend. Pre-registration must be arranged though G.L. Roberts C.V.I.
OCTOBER 2-4 | Screenings at G.L. Roberts CVI
Wednesday October 2nd – 9:15AM – 11:30AM
International Shorts Programme (Total run time -108m) Theme for the day is Migration/Undocumented
Take Care (United States) – Gabriel is a 19-year-old Mexican-American valet parking attendant who works at a high- end restaurant in Los Angeles. When he finds out that his undocumented mother, Inez, needs medical care he tries to help her in any possible way. How far will Gabriel go in order to prove to his mother, and to himself, that he can take care of her?
The Original (Mexico) - Alana is a woman struggling to keep her relationship alive as her partner suffers with a debilitating illness. A new medical procedure offers the answer to their prayers, but not without forcing her to make one last sacrifice.
The STAIN (Iran) – The old man of the cinema salon cleaner after the release of the movie takes care of he stain on the screen ...
I Am the Doorway (England) – After a journey to investigate desolate Pluto, astronaut Arthur returns home a shattered man. He sees eyes forcing their way through the skin of his hands, eyes that distort his friends and the landscape itself into monstrous visions. Believing himself the doorway to alien invasion and gruesome murder, he must take desperate action. Based on the short story by Stephen King.
Lili (United States) - Lili knows she has to nail this audition. The Man she auditions for, knows this too. Thus, starts an uncomfortable cat and mouse game in this single-shot #metoo horror, about power, the misuse of power and female empowerment.
GUAXUMA (Brazil) – Tayra and I grew up on a beach in the north east of Brazil. We were inseparable. The sea breeze brings me back happy memories.
Nefta Football Club (France) - In the south of Tunisia, two football fan brothers bump into a donkey lost in the middle of the desert on the border of Algeria. Strangely, the animal wears headphones over its ears.
_ _ _
Wednesday October 2nd – 12:30PM – 2:30PM
Film Production 101 – Hands On
G.L. Roberts students have the opportunity to learn from professionals in the business. Learn about getting a film from script to screen.
_ _ _
Thursday October 3rd – 9:15AM to 11:30AM
Nature: Wild & Beautiful (TRT 1:30 minutes) Theme for the day is Nature is beautiful but admire it at a distance with a camera.
The Monkey Business (Canada) – A short documentary that follows Canada's solitary monkey sanctuary, and its efforts to rehabilitate primates damaged by their previous lives. The film investigates issues of pet ownership, sanctuary stewardship and the complex relationships that are formed between people, society and animals.
Pioneer: Bren (Canada) – A former fisherman turned ocean farmer. Restoring the seas by growing seaweed and shellfish.
Apex Survival - Maiden Voyage (United States) - An inspiring global team of shark experts and conservationists, dominated by strong, smart and independent women, join forces and follow a migratory route of the Great White sharks. There is not an animal we fear more, and understand less, than the Great White shark. Once home of the highest population of Great White sharks in the world, the cold and stormy South African waters are almost void of Great Whites. What are the mysteries underlying their disappearance? What are the consequences of their near extinction? Are there solutions?
_ _ _
Friday October 4th – 9:15AM to 11:30AM
Feature Film – Theme for the day is Sexual Assault
Foster Boy (United States) (Total run time 1:45 minutes)
Starring – Shane Paul McGhie, Matthew Modine, Michael Beach, Julie Benz, Louis Gossett Jr.
Micheal Trainer is a lawyer at the center of a trial in which a for-profit foster care agency puts a known sex offender into the same foster home as his young client Jamal, with catastrophic results. Michael, successful litigator with a long career protecting corporate interests, wants nothing to do with Jamal's case, until a Judge forces him to accept it. Initially he sees Jamal as a kid off the streets looking to grab a piece of corporate profits. But, when Jamal refuses to settle the case for any amount of money, Michael begins his representation in earnest. As their work together reveals the horrifying depth of the corrupt and abusive for-profit foster care agency, Michael is transformed from cynical skeptic to fierce warrior in the pursuit of justice.